Gibbs Removals is proud to serve
Bourne
---
Gibbs Removals carry out hundreds of Domestic moves every year in Bourne.
If you're thinking of relocating to or from Bourne, we can help!

Bourne is a pretty historic market town rich in wildlife, culture and history, and renowned for its waterways, open spaces, parks, woodland and beautiful flower displays, situated on the edge of the stunning south Lincolnshire.
The town has a long history, originating from a Roman road from which it was built upon (known as King Street), and also from the excellent water supply sourced locally from natural springs at the Wellhead Gardens. The name "Bourne" derives from the Anglo-Saxon meaning "water" or "stream" and is a common name for a settlement.
Bourne is now a growing and bustling market town with many amenities, including the popular Bourne Woods, a large leisure centre, outdoor swimming pool, snooker and sports bar, museums, a good range of restaurants, cafes and public houses, several gyms (including a ladies only gym) and a great selection of shops and businesses. There is also a fine selection of accommodation in and around Bourne, so if you're thinking of visiting the area you'll be spoilt for choice - from the quaint cottage in the countryside to a luxury hotel room at The Black Horse in Baston, there's a place to suit every budget and requirement.
Bourne is a market town and civil parish in the South Kesteven district of Lincolnshire, England. It lies on the eastern slopes of the limestone Kesteven Uplands and western edge of the Fens. The population recorded in the 2011 census was 14,456.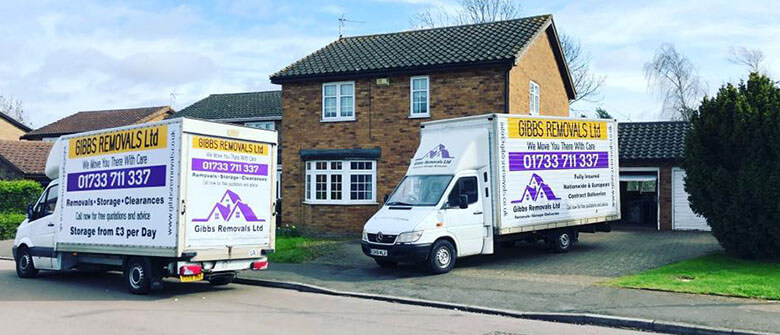 Make your move
easier.
---
Gibbs Removals carry out hundreds of Domestic and commercial moves every year.
At Gibbs Removals, we are a local name dedicated to providing a stress-free house removal and storage experience when moving house or business. We offer a range of professional and affordable services, from moving furniture, to relocating businesses, to secure storage solutions.

Why Choose Us?
If you're searching for trusted removal companies, our firm has years of experience relocating families and businesses. Our removals are highly rated on Trustpilot & Google.
Once you've made an enquiry about our Removals services, we can arrange a free visit to discuss our process in further detail, answer your questions, and measure the volume of items you need us to move. This will help us ensure we provide the right team and equipment for the job, as well as help us provide an accurate quote. Once we've agreed on a quote, we can then arrange a time to suit you for your move. If you're packing items yourself, you will need to make sure that everything is ready for our removals team to load onto our removal van. If you've arranged for us to do your packing for you, you can sit back and relax knowing that we will take care of everything. The only thing we ask is that small valuables, personal documents, and cash are handled by you. Concerned About Costs? At Gibbs Removals we offer transparent house removal prices with no hidden fees or extra costs. Our knowledgeable surveyors measure carefully to ensure that your quotes are correct. Our free, no-obligation quotes are designed to help you choose us with confidence. Complete our request a quote form online today to get your removals quote started.
Services
We are full trained in disassembling and reassembling all furniture from beds, wardrobes tables etc. We do not charge by the hour this service is all included in the quote given to you before the start of the service.
Our Services Gibbs Removals offers four main service packages which can be fully tailored to suit your requirements. These include: Full Packing & Unpacking Service for a stress-free solution Owner Packing Service that provides you with all the packing materials you'll need, we also have a selection available in our shop Long & Short-Term Storage for domestic and commercial items Commercial Relocation for offices and businesses
Any questions? Call us for a free no obligation removal quote. We're here to help!
We move you
there

with

care
---