Gibbs Removals Ltd
Services
---
PETERBOROUGH & CAMBRIDGESHIRES MOST RECONISED REMOVALS & DELIVERY COMPANY
Throughout Cambridgeshire all our fleet are very well know, We are always getting a BEEP..BEEP when we are on our travels Daily from our many customers.
---
Reassembly and Packing
Leave the stress of dismantling and packing you're property to us.
This is one of Gibbs Removals Ltd bespoke services we offer to our customers. With many other Removal companies in our industry you will be lucky to find a professional Removal company with the standers we provide. Every item we take apart and put back together is fully insured in case of any problems. We have every tool possible on every Removal job we attend to make sure you're furniture is being treated the correct way. We keep all nuts and bolts together for each item we dismantle and reassemble to take the worry away from you're removal day.
---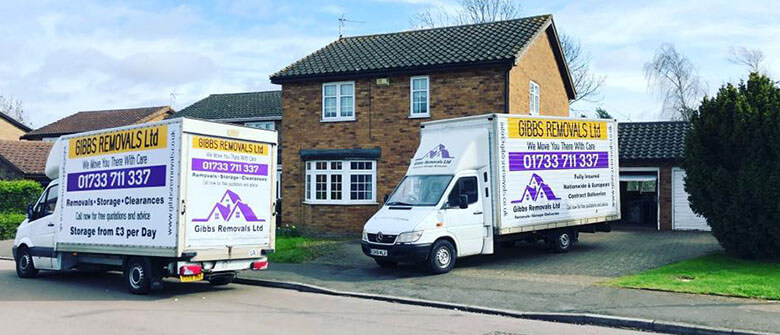 ---
Domestic removals
Makes your moving easier
Gibbs Removals carry out hundreds of Domestic moves every year. We make sure we provide a stress and hassle free first class service for all our customers.
No more fatigue
Moving is stressful enough so sit back and let our team do all the hard work from now.
Happy professional workers
Us at Gibbs Removals all enjoy what we do, We have a brilliant friendly team of workers who are professional, experienced and well mannered.
Reassembly service
We are full trained in disassembling and reassembling all furniture from beds, wardrobes tables etc. We do not charge by the hour this service is all included in the quote given to you before the start of the service.
---
---
Packing & Moving charges
| Mover /Hr | 2 Men | 3 Men |
| --- | --- | --- |
| Single mover | £50 /hr | £90 /hr |
| Plus Small truck | £150 /hr | £250 /hr |
| Plus Medium truck | £350 /hr | £450 /hr |
| Plus Big truck | £450 /hr | £450 /hr |
---
Storage And Self Storage
We aim to beat any price in Peterborough, Cambridgeshire.
Storage Facility
We'll collect, protect, store, manage and deliver all your important documents. When you call you will only speak to a person. We like speaking to real people and we think you will too.
Security is paramount to us as we know how important it is to you. All our sites have recorded digital recorded CCTV through the storage facility and have high perimeter fencing to make sure you have peace of mind when you store. We offer self storage container's as well as our big storage unit.
Long or short term storage
What ever you are looking for call us at Gibbs Removals Ltd for you're Storage. If you are just needing a few week's or month's we have the storage. With state of the art CCTV running live 24/7 you're belonging are safe and sound with us.
Single Unit Rent
Our self storage units can be accessed 24/7 so you can come and go as you wish. Prices start from £25 per Week. You will need to buy for own lock for you're unit so only you can get access it.
---